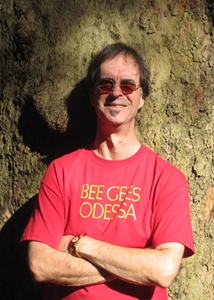 Archie Patterson of eurock.com wrote a nice summary of "Times & Sounds" and made it available to us. Archie is a journalist and author from California and was editor of the "Eurock" fanzine from 1973 to 1992, which dealt intensively with progressive and alternative music from Europe:
"Times & Sounds" is an encyclopedic 500+ page history exploring the roots & branches of German Jazz, Pop & Krautrock. I recommended it to anyone interested in a detailed historical timeline of information about who, why and how a 'modern' German music scene happened.
The Beginning & the Sixties
Times & Sounds offers an extensive look back at the beginnings German Pop, Rock and Jazz music as well as the nature of German society and role German music has played culturally over the past 50 years. In his book Jan Reetze uses German 45's (singles) according to their sales ranking as they appeared in the US Billboard music charts as one snapshot to illustrate this.
Sales & Chart Number
1955 #8 Caterina Valente: The Breeze and I
1962 #1 Bert Kaempfert Orchestra: Wonderland by Night
1975 #25 Kraftwerk: Autobahn
1984 #25 Scorpions: Rock You Like a Hurricane
1988 #2 Milli Vanilli: Girl Yu Know it's True
1991 #4 Scorpions: Winds of Change
1993 #3 Real McCoy: Another Night
1995 #6 La Bouche: Be My Lover
1999 #3 Lou Bega: Mambo No. 5
2015 #1 Omi/Felix Jaehn: Cheerleader
I think it's fair to say the partial list I included above offers a fairly accurate time-frame in terms of Germany's musical tastes before & after the 1960's period of musical innovation began & ended.
The Sixties Choo Choo Trains & Telstar
In the early 1960s, the 'Pop Music' revolution began with the Beatles and Rolling Stones planted the seeds in a British Invasion of America, Germany and elsewhere. In 1960, the book's author, Jan Reetze, was 4 years old and listened to his parents more mainstream music. His first hand experience was most likely little or none in terms of Rock music. That makes the incredible amounts of detail in this book even more impressive.
His research and information related to the development of media and the 'business of music' apparatus is thorough in terms of how it works and its impact on the music made. It also illustrates how Music as an 'Art Form' is shaped and music effects related media and culture.
The Sixties led to the formation of a few early German new Deutsch Rock hybrid bands rooted in the Anglo-rock style. Perhaps the most important was The Rattles, founded in 1960 by Achim Reichel. Later in 1968, Reichel formed a more experimental rock band called Wonderland. From 1971-75 he released two remarkable LPs as 'AR & Machines'. The second DBL LP titled 'Echoes' in my opinion is one of the most unique German releases of that early era.
Perhaps the most important thing in early 1960 in terms of creating this new Deutsch Rock scene. a TV program named 'The Beat Club' was created by Michael "Mike" Leckebusch and his partner one of Germany's first DJ's Gerhard "Gerd" Augustin. 'The Beat Club' and Gerhard were major catalysts in terms of creating the "Krautrock" scene.
To illustrate what the 'Rock Scenes' impact was Reetze again offers sales figures of the top albums.
The 12 Best Selling German Records in 1977
Udo Lindenberg: Panische Nächte (120,000)
Jane: Live at Home (71,000)
Kraftwerk: Trans Europe Express (67,000)
Eloy: Dawn (65,000)
Jane: Between Heaven and Hell (54,000)
Scorpions: Virgin Killer (46,000)
Lake: Lake (45,000)
Novalis: Sommerabend (40,000)
Michael Rother: Flammende Herzen (40,000)
La Dusseldorf: Dusseldorf (35,000)
Kraan: Wiederhoren (33,000)
New Triumvrat: Pompeii (32,000)
Total LPs sold: 608,000
Total LPs sold in Germany: 2,000,000
The Angels of Chaos & Germany's Krautrock Revolution
The 'Essener Sontage Festival' in 1968 was the first shot fired. One of the prime promoters of that Festival was Rolf-Ulrich Kaiser, an author of several books. It was at that Festival his eventual partner in OHR Records, Peter Meisel, signed several bands who played there their first contracts. Amon Düül from Munich was one of the featured acts along with Tangerine Dream and others.
Amon Düül was a political commune as well as free-form psychedelic group of musicians who played long improvised jams. They made a film called 'Phallus Dei Soundtrack'. Tangerine Dream at that time was also more free-form musically, not the creators of synthesized sound sculptures they later became. Peter Meisel signed both of them to recording contracts.
Soon after the Festival, the Amon Düül commune split into two bands, Amon Düül II was the most accomplished musically of the two. Reetze describes Amon Düül & Amon Düül 2 as chaotic and seems not impressed by their music or that scene. Their music and spirit however served as a spark that ignited a prairie fire creating a 'Second Culture' musically. The New Deutsch Rock scene went on to revolutionize the Deutsch Rock scene and music business.
The other band big Can was from Cologne who had musical roots in avant-garde music as students of Karlheinz Stockhausen and jazz influences. Like Amon Düül II Can was also chaotic. Can however featured two incredible singers, black American, Malcolm Mooney and Damo Suzuki. Their vocalizations elevated Can's music to an entirely different Time and Space with free-verse vocalizations. The instrumental playing of Irmin, Holger, Jaki & Michael created a perfect improvised beat soundtrack. After Malcolm, Damo then later Holger Czukay left Can music became less innovative more structured even funky.
One of the more revealing passages in the book about Can was a quote by Reetze about Irmin's wife Hildegard'. Also, why Can became more successful.
"Can wouldn't be what it was without Hildegard Schmidt, Irmin's wife. When during a train ride she met Irmin for the first time, she was 17 and had a job in real estate management. She didn't know much about the rock music scene, but she knew what a contract was and how it had to be set up correctly."
The 1970's Counter Culture
Reetze also gets into the aspect of politics in that era, which in fact had a major influence on the music and big cultural changes in Germany (and elsewhere).
He also goes into to politics mentioning the German 'Baader-Meinhof Group'-'Baader-Meinhof Gang', aka the 'Red Army Faction' (R.A.F.). Internationally, at that time in the US, UK, Germany, France, Japan and elsewhere political upheaval and rock music had an incredible effect on culture. It was an exhilarating, painful and violent era. Music became the soundtrack leading to a new way of thinking and living. Now in retrospect, I think you can also see that what goes around comes around. Take a look at the news today…
The Cosmic Couriers & German Rock Pioneers
The amazing details in the story of this era for me are the heart of the book. In the 1970s, The Cosmic Couriers, OHR label, Zodiak Club, Human Being-Kluster-Cluster, Kraftwerk, Dieter Dierks, Connie Plank, Brain Metronome label, German TV/Radio Station WDR had there the "Studio für Elektronische Musik" where Karlheinz Stockhausen recorded, Neu, Harmonia, La Dusseldorf, Klaus Dinger, Michael Rother & countless other Reetze chronicles created music that was absolutely unique.
Reetze details the story of the Cosmic Couriers which is a real life morality tale about how Dreamers can conjure up create great visions, and those Dreamers often end up in a very bad way. In the end it was drugs and the money that lead to their downfall. That's my take on it. Regardless what your perspective is, Reetze timeline and the details of all that are fascinating.
Hamburg Jazz, German Agit-Prop, 1980's New Technology & The Future
The books final section is also eye-opening. Reetze offers a synopsis and details about some of the best German Jazz & Fusion bands. He talks about Udo Lindenberg, Olaf Kubler, Klaus Doldinger's Passport, Christian Burchard's Embryo, April & Schneeball indie labels, Trikont indie label and much more.
In Berlin, there was Ton Steine Scherben ('Sound Stones & Shards'), from Cologne, Floh de Cologne. Both were overtly political, more working class, not 'pop star' oriented and activists on some level. The first two TSS albums are masterpieces of 'Anarchist Agit-Prop German rock'. The titles of those albums, in English title translations were, 'Destroy What's Destroying You' & 'No Power for Nobody'. Back then I had no idea those album titles would turn out to be prophetic, or that Digital Technology would alter the way music was made and distributed in The Future.
Some younger musicians are still now creating provocative music in Germany, and elsewhere. A few original Krautrock musicians continue making unique music as well. Technology however has become the prime mover in terms of what we buy, hear and how we think. "Times & Sounds" by Jan Reetze" is amazingly detailed and researched. If you read between the lines you'll also see how we got to where we are today, and where we may end up tomorrow.
Photo: Amon Düül II, 1969 (© Manfred Rinderspacher)
---