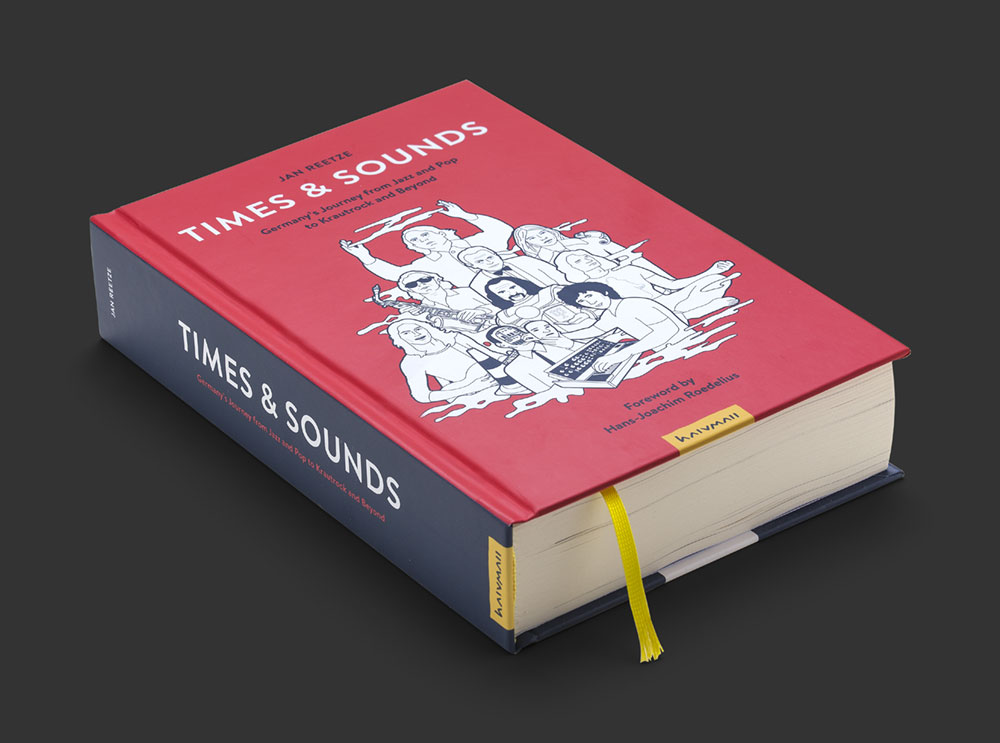 Jan Reetze
Times & Sounds
Germany's Journey from Jazz and Pop to Krautrock and Beyond
Foreword by Hans-Joachim Roedelius (Kluster/Cluster/
Harmonia)


Previously unpublished photos

Includes infographics and "The Map auf Krautrock"

Hardcover with coloured headband and ribbon


536 pages including coloured endpaper
This book is a journey …
… – a ride through the depths of Germany's modern musical roots:
At the beginning of the 1970s, experimental and progressive music in Germany developed far from the mainstream. Although few initially noticed it, it is now internationally celebrated as a cult phenomenon called "Krautrock". Today, bands like Kraftwerk, Can, Amon Düül II, NEU!, Cluster, and Tangerine Dream are considered pioneers of groundbreaking sound experiments.
In order to understand the Krautrock era and its impact, it's worth delving deeper into the history of German rock music and taking a closer look at the overall picture.
Times & Sounds offers a comprehensive insight into the mechanisms of post-war Germany's music industry and sheds light upon its diverse musical styles, as well as their mutual influences and connections, which have received little attention until now: From the onset of German Jazz and Swing orchestras to the first Rock 'n' Roll bands around Hamburg's Star Club and electronic synthesizer pioneers. From the intact world of Schlager to agitprop and left-wing protest songs. From the avant-garde compositions of Stockhausen and his presumed disciples of Krautrock to the Neue Deutsche Welle.
This book is a journalistic diary tracing Germany's dynamic culture from the late 40s to the early 90s. Those who take this journey experience the ups and downs of five decades, thus
developing an understanding deeper than any other of the Krautrock phenomenon.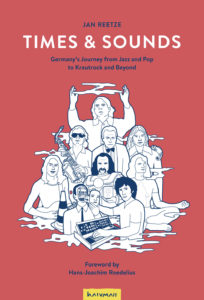 Downloads:
Hardcover: ISBN 978-3-9822100-0-1 (buy here)
E-Book: ISBN 978-3-9822100-1-8 (buy here)
The German version is available here
"For experts, as well as newbies, in the krautrock field, this book does not only open up several new views for the first time, it presents a general overview of the big picture of rock music in Germany."

Hans-Joachim Roedelius (Kluster/Cluster/Harmonia)
"Finally, the whole story at a glance! Excellent!"

Hellmut Hattler (Kraan/Tab Two)
"A well-grounded pageturner."

Michael Engelbrecht (Deutschlandfunk)
"The best book on German music. What makes it special is the way that the cultural and political fabric of Germany are woven into the story of the development of German music from the 1920s onwards. … Reetze's knowledge, research and a wonderful writing style, laced with humour, make the 530 pages literally fly by."

Ian Shirley (Record Collector)
"This beautifully presented and illustrated book is a must for both krautrock and music culture aficionados."

Joe Banks (Shindig)
"Pure gold. Rarely has the development of this music and its protagonists (not only the musicians!), its regional characteristics and worldwide impact been presented in such detail, so expertly, so varied and interesting."

Ulrich Schwartz (Good Times)
"Follows the development of rock music in Germany which finally leads to a completely independent form at the end of the 1960s and the beginning of the 1970s. … Always keeps an eye on the political and social upheavels that favored this development. The book is a portrait of Germany from the 50s to the 80s and a history of rock music in Germany."

Florian Schneider (MINT)
"Jan Reetze has written the best book to date on the subject of Krautrock. … Highly recommended."

Alan Tepper (Eclipsed)
"Times & Sounds is a prime example of exciting journalism, of critical subjectivity and the communication of sometimes little-known facts about German history, paired with scientific-looking research care and a pinch of irony that makes the kraut soup really delicious."

Manfred Miersch (info-netz-musik.de)
"The trophy for the niche book of the year goes to Jan Reetze and the publisher Halvmall for this visually magnificent title."

Andreas Schiffmann (musikreviews.de)
"Times & Sounds by Jan Reetze is amazingly detailed and researched. If you read between the lines, you'll also see how we got to where we are today, and where we may end up tomorrow."

Archie Patterson (eurock.com)
"Has best chances to become a standard work."

Stefan Trapp (Dierks Studios)

Including
Early Jazz and Swing orchestras
Rock'n'Roll and the Hamburg Star Club
The stories of Amon Düül II, Can, Kraftwerk, Cluster, NEU! and other bands
A detailed overview of the music landscape of the 60s and 70s: Düsseldorf, Hamburg, Berlin School, Agit Prop and more
Studios and producers – Conny Plank, Dieter Dierks, …
Rolf-Ulrich Kaiser: the full story!
Electronic Revolution: Stockhausen, Carlos, Sala & Co.
The Munich Moog pioneers: Schoener, Fricke, Moroder
The rise of the Neue Deutsche Welle (NDW) and much more …
About the Author